Grants :: Organization Spotlights :: Details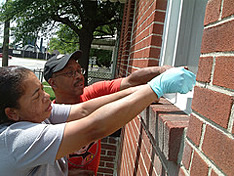 Global Community Monitor
gcmonitor.org/
El Cerrito, CA
Date of Grant: 2011
The foundation supports Global Community Monitor's California Healthy Communities Program. The program works closely with neighborhoods adjacent to sources of pollution, training residents to use mobile air sampling technology that identifies threats to clean air.
In urban areas such as West Berkeley and West Oakland, the project focuses on pollution from mixed residential-industrial developments. In the Central Valley the project is exploring human health risks associated with air pollution from pesticide applications, automobile and truck traffic, and concentrated animal feeding operations.
The project provides information to policy makers and the general public about pollution and health risks faced by local residents, ensuring enforcement of existing regulations and developing new policy options that improve air quality.